March 5, 2012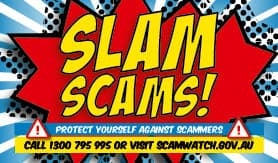 This month, Australia's National Consumer Fraud Awareness Week will be the week of 19th March 2012. The campaign launch will feature a panel session including eBay Inc.'s Trust & Safety Specialist, Lorraine Smyth.
Awareness Week is organised by the Australian Competition and Consumer Commission and supported by eBay and PayPal. This year the campaign will focus on raising awareness of scam delivery methods so that you can identify and slam a scam at the point of contact. Scammers are increasingly sophisticated in how they deliver scams, taking advantage of new technology and communication methods to try and slip under your radar.
Here are some tips to keep scammers at arm's length:
Do not respond. Ignore suspicious emails, letters, house visits, phone calls or SMS – press 'delete', throw them out, shut the door or just hang up.
Watch out for slick tricks, scammers use sophisticated tactics such as fake websites, glossy brochures, technical jargon or posing as someone that you know and trust – don't fall for them!
Don't become emotional, scammers will play on your emotions to get what they want.
Protect your identity, your personal details are private and invaluable – keep them that way and away from scammers.