Small Business Ambassador Network
Small Business Ambassador Network
At eBay, we understand how the Internet has revolutionized the way entrepreneurs around the world conduct business.
Highlighting the success stories of our eBay sellers is a powerful tool to illustrate this to lawmakers and the media. To help achieve this we have created eBay's Small Business Ambassador Network. The network features small businesses, whose stories and experiences perfectly showcase how technology has successfully enabled commerce and allowed small retailers to thrive.
Frequently Asked Questions
The eBay Government Relations Small Business Ambassador Network (SBAN) is a global volunteer advocacy effort launched in May of 2013. The Network leverages the success stories of eBay entrepreneurs from around the world to shape public policy that will protect and promote the thousands of small businesses that utilize our marketplace to do business.
Becoming involved in eBay's Small Business Ambassador Network will help ensure that technology, the Internet and our marketplace continue to successfully enable small businesses around the world. By becoming a SBAN member you can use eBay's resources to make your voice heard on public policy issues that can directly impact your small business. Additionally, membership could lead to exciting opportunities including being featured on our digital platforms, meeting eBay's senior level executives, meeting legislators and getting media exposure.
Absolutely – you do not need a background in public policy or politics to be a member of the group. The goal of SBAN is to showcase how technologies such as the eBay platform have provided unprecedented opportunities for entrepreneurs all over the world. Our team will provide you background and education on the public policy aspects, so that you can focus on telling your small business success story.
Any small business that uses the eBay platform and is interested in lending their small business story to our global advocacy efforts can join the Network. All you have to do is email
[email protected]
or fill out our Membership Request Form below and let us know that you're interested in joining SBAN and a member of our team will follow up with you.
As a member of SBAN, you will have the ability to work closely with our team on a number of important legislative and regulatory issues that impact your business. These include, but are not limited to, Internet sales tax or VAT, cross border trade, privacy issues, intellectual property, postal issues, resale of goods and many more.
There are a wide range of activities that our SBAN members can participate in. The best part about SBAN membership is that you get to choose your level of involvement. We will reach out with opportunities, and you can decide if you're interested in participating on a case by case basis. We understand that your first priority is running your business, that's why our intention is to make every activity you choose to engage in as easy as possible for you. Activities may include:
Writing a letter or email to your elected officials
Calling your elected officials
Signing an op-ed or Letter to the Editor for local or national media outlets
Interviewing with local and national media outlets
Conducting a facility tour of your warehouse or business for elected officials
Attend or speak at a roundtable or panel event
Attending town halls or other public events
Meet senior level executives
Once you formally become a member you'll be put on our SBAN distribution list. The list receives quarterly updates as well as periodic action alerts via email. We believe that on average SBAN members will spend 1-2 hours a month engaged in various activities.
Small Business Spotlight
Andrea Gönner, Garnwelt
Riedlingen, Germany
Husband and wife team Andrea and Hans Goenner have been entrepreneurial partners for many years. Before starting their online business Garnwelt, the Goenners owned a big textile company in Riedlingen. This company manufactured and sold ladies' clothes for many years. In an unfortunate turn of events the company went out of business. That's when the couple began taking the high quality wool they were once using to make the ladies'garments and selling it online on the eBay platform. While the business started as a means to liquidate their failed business, it actually ended up turning into an extremely successful venture.
Andrea was one of the first European members of our Small Business Ambassador Network. Andrea truly understands the importance of telling her story and highlighting what technology and the Internet have done for small businesses. Andrea's story has been included in a variety of eBay's reports on tech-enabled entrepreneurs. She continues to look forward to using her personal story to showcase to elected officials and other important stakeholders the importance of a Digital Single Market for Europe's SMEs. 
Mac Griffiths, mdgsales
South Jordan, Utah
As early as he can remember, Mac Griffiths has had an entrepreneurial spirit. When he was younger he dabbled in selling a variety of items- everything from leather gloves to art work. But it wasn't until 2000, when Mac came across eBay as a platform, that he found a truly profitable venture. With a background in computer science, Mac left his full-time job in 2002 and opened an eBay store specializing in the sale of computer and networking equipment software. In the beginning Mac sold out of his home, sending his wife Maria to the post office with bags full of boxes to ship. Today Mac employs five people, two full-time and three part-time, and has an office and warehouse to run the business and store inventory. Over the years he has also auctioned off a number of unique items including a six-foot long kitchen sink and an FBI camera that is able to slide under doors. Owning an eBay enabled small business gives Mac the flexibility to balance both family and work.
Members in the Media
One of the many benefits of becoming a member of eBay's Small Business Ambassador Network and working with eBay's Government Relations team is the opportunity for your business to be featured in the media. Whether it's on public policy issues or business issues, we're always looking for opportunities to highlight our many Ambassadors in the media. Here are some recent examples:
Colleen Rast

Great Sky Gifts

Kalispell, Montana, USA

John Davis

Sarge & Red's

Harpers Ferry, WV

David Lahme

TradePort USA

Somersworth, New Hampshire, USA

Danna Golden

Saddle Up

Longmont, Colorado, USA

Mario Calabrese

Footloover

Grassano, Italy
SBAN Advocacy Leadership Award
Every year, the eBay Government Relations team honors one member of the Small Business Ambassador Network with our Advocacy Leadership Award. The award is intended to honor a SBAN member who has shown exceptional commitment and dedication to working with our team on issues that affect technology-enabled small and medium sized businesses.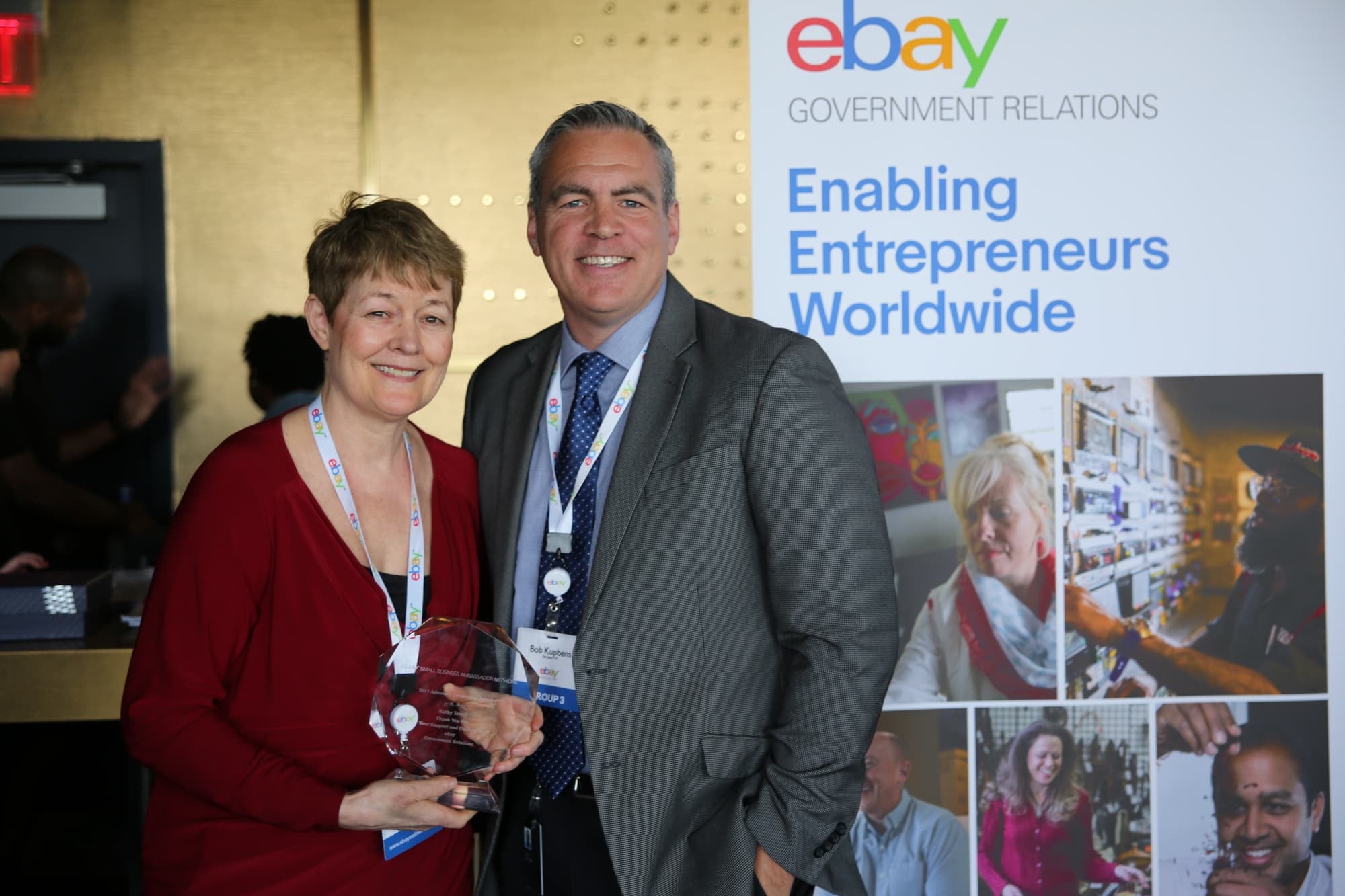 2017 Winner
Kathy Terrill, Owner, NYC Fitness, Family & Finds
Manhattan, NY
Kathy Terrill is actively involved with both the eBay community as a whole and eBay's Government Relations Team. She has been involved in the Small Business Ambassador Network since its launch in 2013, and has attended several advocacy day events in Washington, DC and New York and has even been on eBay Radio! In addition, Kathy has always actively engaged her legislators by calling, emailing and tweeting them about Internet sales tax and trade issues. Along with a few other SBAN Members, Kathy co-authored a blog post in The Hill about how US trade policies fail to account for small businesses. Kathy has been a great asset to our team, and we are honored to present her with this year's Advocacy Leadership Award.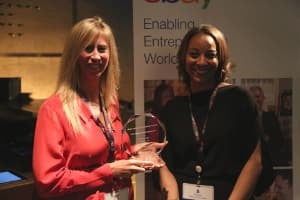 2016 Winner
Colleen Rast, Owner, Great Sky Gifts Inc.
Kalispell, MT
Colleen's involvement with eBay's Government Relations team started before SBAN's formal launch in 2013.  Colleen has been involved with our team in a number of ways. She joined three advocacy day events in Washington DC, she attended a press conference on Internet sales tax with the Montana attorney general, she spoke as a special seller guest at our 2015 Global Government Relation summit and when she got the chance to have lunch with eBay founder Pierre Omydiar, she agreed to have him autograph a set of collectible Pez dispensers that the Government Relations team later auctioned off for charity. Throughout this time Colleen has always been an effective advocate for small technology-enabled businesses.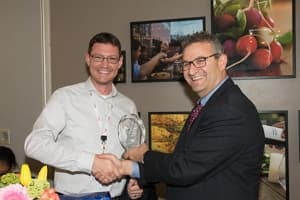 2015 Winner
Steve Douge, Director of Online Sales, Hardware Sales
Ferndale, WA
eBay's Government Relations Team is lucky to have Steve Douge as part of our Network. Since joining SBAN, Steve has engaged in a number of important activities. He has hosted Rep. DelBene (D-WA) for a tour of his facility, he has lobbied for small businesses on Capitol Hill during eBay's Advocacy Day in 2014 and 2015 and he has participated in a number of events focused on educating Members of Congress and staff on the benefits and barriers of cross border trade.