April 21, 2023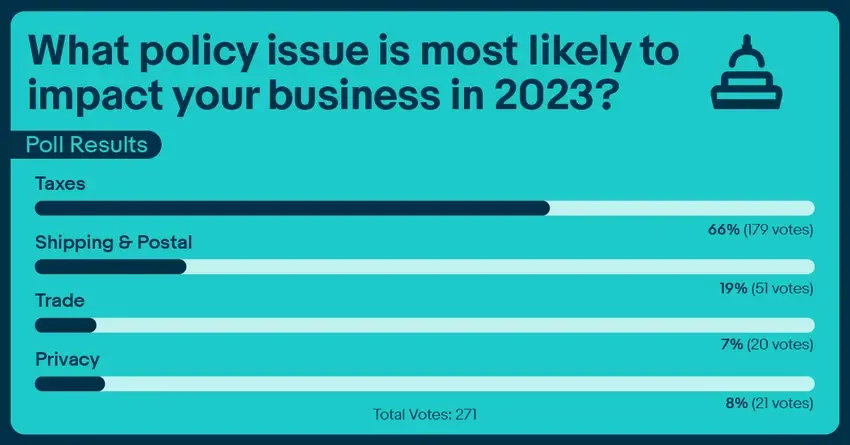 As a global online marketplace, eBay not only recognizes its ability to effect changes in global ecommerce, but the responsibility to its sellers to do so. As both local and international trade business policies impact eBay sellers, we asked eBay Main Street Members  which policy issues are most likely to shape their online businesses in 2023. Here's what they had to say:
Overwhelmingly at 66 percent, respondents reported that tax policies are positioned to create the largest impact on their online business. As our online marketplace enables small businesses to reach global markets, it is eBay's belief these small internet-enabled businesses and casual sellers should not be burdened with the same taxes as big box retailers. 
After taxes, Shipping & Postal garnered 19 percent of poll responses. Creating and maintaining the framework for a viable postal system is crucial in supporting small and rural businesses. eBay is dedicated to promoting policies that guarantee access to reliable and affordable shipping alternatives. 
Lastly, sellers reported being equally concerned about global trade and privacy policies. eBay-enabled small businesses are able to access global markets and expand their buying audience at a greater rate than traditional businesses. It is vital for eBay to protect both buyers' and sellers' privacy online by adhering to protective policies at a global scale.
As we continue into 2023, our Main Street Members and their businesses are at the forefront of our minds. We are conscious of how global trade and business policies affect everyone, but not to equal extents. eBay remains committed to promoting policies that enable global commerce and empower sellers to grow their businesses without undue burden.