July 23, 2012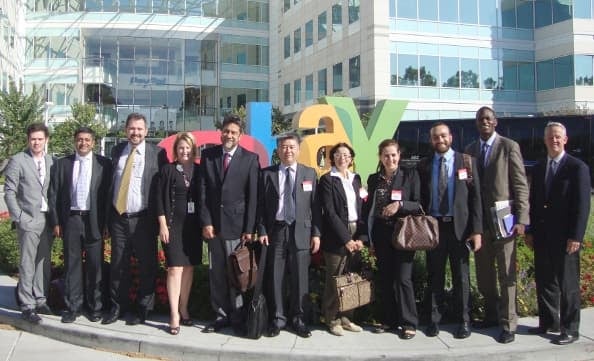 Members of the Information Technology Industry Council; the Brazil Ministry of Communications; the Brazil Ministry of Science, Technology and Innovation; and the Brazil Ministry of Development, Industry & Foreign Trade gather outside eBay Inc.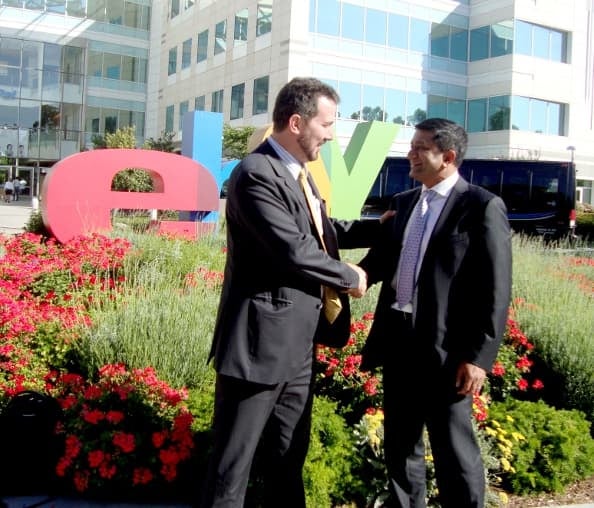 Maximiliano Martinhao, the Brazilian Secretary of Telecommunications, and Rohan Mahadevan, PayPal Vice President of Emerging Markets, shake hands outside the eBay Inc. headquarters
With abundant natural resources, robust financial system and massive domestic market of free spending consumers, Brazil shapes as one of world's hottest investments destinations ­ consistently making the short list of promising economies (Thomson Reuters, 2011). Last week, eBay Inc.'s Government Relations team had the opportunity to host a Brazilian delegation of nine influential government officials from the Ministry of Communications. eBay Inc. partnered with the Information Technology Industry Council, to cultivate relationships with Secretaries who lead ministries impacting Brazil's broadband, mobile and commerce initiatives and industries.
The Brazilian delegation's Silicon Valley visit objective was to build strong ties with leading technology companies and learn what is important to global companies as they make investment decisions in emerging markets. Among the companies visited, including Cisco Systems and Apple, eBay Inc. was the sole global commerce company. The delegation first visited the PayPal Shopping Showcase and Secretary for Information Technology Policy Virgilio Almeida asked very pointed questions about a range of issues including net neutrality and R&D investment, while Secretary of Telecommunications Maximiliano Martinhão, asked for input from us regarding potential Central Bank regulations regarding mobile payments. Ed Eger, eBay Inc.'s Senior Vice President and Advisor to the CEO, highlighted eBay Inc.'s innovated business model and answered many of the senior officials' questions from a broad, global perspective. Rohan Mahadevan, PayPal's Vice President of Latin America, highlighted PayPal's presence globally and specifically in Brazil and Michelle Peacock, eBay Inc.'s Executive Director of GR Emerging Markets & New Ventures covered the eBay Marketplaces platform. We also did a successful demo of PayPal Here prompting another round of enthusiastic questions. eBay Inc.affirmed its sector leadership with the recent release of eBay Inc.'s strong Q2 2012 earnings.