March 5, 2013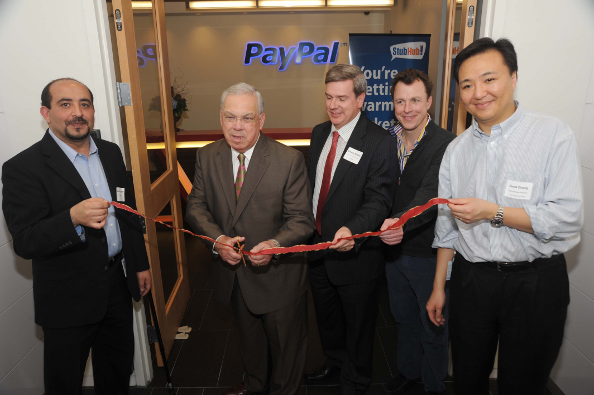 Pictured: StubHub Director of Software Development Mehdi Ghazizadeh, Boston Mayer Thomas Menino, MA Secretary of Housing & Economic Development Greg Bialecki, PayPal Media Networks General Manager Walt Doyle, PayPal Media Networks Director of Product & Strategy David Chang
On February 28th PayPal Media Network hosted an open house and ribbon cutting at the new eBay Inc. office in the Boston Financial District. The event showcased the new facility, our startup incubator and unveiled the hiring of StubHub employees for the first time in the Massachusetts market. Attended by over 200 individuals, the event included representatives from the entrepreneurial and startup community, venture capitalists, politicians and representatives from tech associations from across the greater Boston area.
Massachusetts State Senator Karen Spilka, who had earlier in the day unveiled the new "Tech Hub Caucus", stopped by to tour the facility and discuss the growing eBay Inc. presence in Boston. The event started with Boston Mayor Thomas Menino providing opening remarks centered on the importance of Boston's qualified workforce in attracting and allowing high tech companies to grow in Boston. He was followed by Massachusetts Secretary of Housing and Economic Development, Greg Bialecki, who gave closing remarks about the importance on high tech in propelling the Massachusetts economy in the coming years. The event ended with PayPal Media Network site leads Walt Doyle and David Chang doing a ceremonial ribbon cutting with Mayor Menino and Secretary Bialecki to christen the new facility.
With the grand opening of our new facility in downtown Boston, eBay Inc. continues to focus on developing products that empower small businesses and consumers alike. To learn more about the new office, take a look at the infographic below.