September 8, 2017
This week eBay CEO Devin Wenig discussed eBay's role as a technology partner for small businesses across the US with key officials in the Administration and on Capitol Hill. Devin was in Washington DC to share eBay's view on issues impacting our business and our customers—especially as a number of these issues are being actively discussed by members of Congress.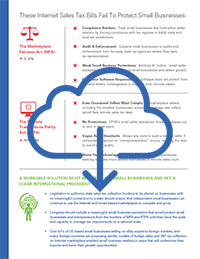 Devin met with cabinet officials and Congressional leaders and discussed global trade, tax reform and current proposals to require the collection and remittance of Internet sales taxes. Devin was also joined by eBay Sellers and Small Business Ambassador Network members Cori O'Steen and Chris Bright for part of the day. Together they provided our collective perspective on important issues impacting our sellers.
Following this visit, eBay's Government Relations team will continue to engage with legislators on these issues to ensure a robust eBay marketplace for all of our customers.