August 9, 2017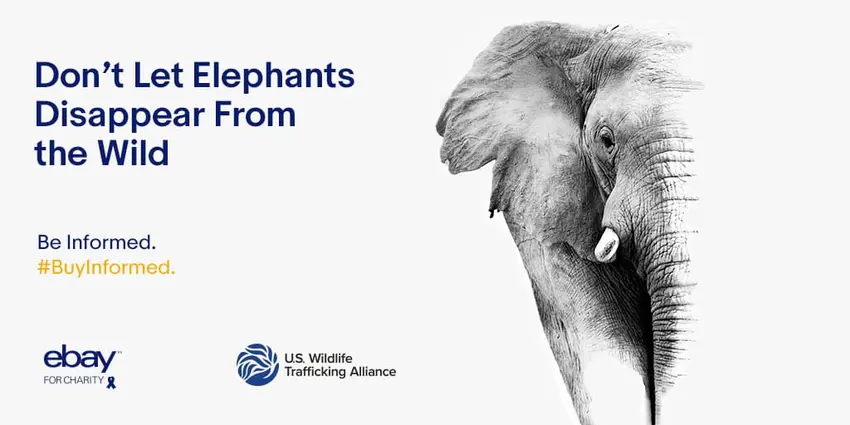 In conjunction with World Elephant Day on August 12th, 2017, eBay highlights our ongoing commitment to combating illegal wildlife trafficking and calls on the broader eBay community to help support this effort.
As part of that commitment, eBay is hosting a charity auction supporting the U.S. Wildlife Trafficking Alliance (USWTA), beginning on August 11th at 4pm PT. You also have the option to give at checkout to USWTA during the week of August 6 – 13 when shopping on eBay. Information on additional ways to support USWTA on eBay can be found here.
"eBay was one of the first companies to join the Alliance to help end the scourge of wildlife trafficking in the U.S.", said Sara Walker, Executive Director, USWTA. "Together, we are raising awareness with consumers and educating them about how to #BuyInformed to ensure that everyone is doing their part to protect endangered species from illegal trade."
To put the issue into perspective, one elephant is killed every 15 minutes, and the Great Elephant Census shows that African elephant populations have declined 30% in the last seven years. It is reported that poaching is the main driver for this decline and the United States remains one of the world's largest markets for illegal wildlife products such as ivory.
eBay's Efforts and Collaborations
While the problem of illegal wildlife trafficking goes beyond our marketplace, and online commerce in general, we will continue to do our part to make a difference. Although there is no easy solution to this issue, we have taken several approaches to address it, including proactive enforcement of our Animal and Wildlife Products policy and collaboration with government agencies, NGOs and other third party experts.
"Stricter regulation and enforcement of the illegal wildlife trade is forcing criminals to find other ways to reach consumers, primarily through online retailers and social media platforms," said Giavanna Grein, Program Officer Wildlife Crime & TRAFFIC, WWF. "The actions eBay has taken – from endorsing a policy standard for the trade in wildlife online in partnership with other online companies, to investing in staff training for product detection, to regularly communicating with NGO experts on emerging trends – set an example for what online companies should do to ensure endangered species aren't sold on their sites."
This year alone, we have removed or blocked more than 25,000 listings globally that violate our Animal and Wildlife Products policy. While this is a fraction of the over one billion listings on our marketplace, it nonetheless shows the number of products related to ivory and other endangered species that could be available if not for the dedication of significant resources toward this initiative.
This is a complicated area to monitor, considering the multiple levels of state, federal and international law that can apply, as well as attempts by sellers to actively circumvent our measures. To that end, earlier this year we welcomed expert trainers from the International Fund for Animal Welfare, World Wildlife Fund and TRAFFIC, the wildlife trade monitoring network, to our customer service center in Utah to train our staff in illegal wildlife product detection techniques. We also maintain ongoing dialogues with these NGOs to stay informed on the latest trends.
Finally, we continue to advocate for stronger laws to address wildlife trafficking, including a recent letter eBay sent to the European Commission in support of a complete ivory ban throughout the EU.
"eBay has been and continues to be one of the companies at the forefront of the fight against wildlife cybercrime," said Tania McCrea-Steele, IFAW's International Project Manager, Wildlife Crime. "This has been demonstrated by eBay's policies that ban the trade in illegal wildlife and go above and beyond the law to protect elephants. Their efforts will have frustrated many wildlife cybercriminals from using the anonymity of the net to peddle endangered species and their parts. eBay not only works with organizations like IFAW, TRAFFIC, WWF and others to ensure their staff are trained in detection skills, but strongly encourages international policy makers to end international trade in ivory. Right now, at least 20,000 elephants a year are poached for their ivory. The commitment by one of the world's biggest online market to help reverse that trend is to be applauded."
How You Can Help
In addition to supporting the USWTA through our charity auction and the give at checkout option in the weeks surrounding World Elephant Day, there are several other ways you can assist:
Visit the USWTA website to learn how to Be Informed and #BuyInformed when shopping for products.
Flag items that may violate our policy directly to eBay for review through the Report item link in each listing.
Share a World Elephant Day message on social media to educate your friends and family about elephants and the poaching crisis by using the hashtag #WorldElephantDay