November 21, 2012
eBay Inc.'s State Government Relations team recently sponsored the Arizona Retailers Association Annual Conference (ARA) at the Mission Palms Hotel in Tempe, AZ. The ARA is Arizona's preeminent advocacy and membership group for the Arizona retail community.
David London, Senior Director, US Government Relations and Stoney Burke, Global Asset Protection Manager, PROACT Team, gave a presentation focusing on the changes within eBay Inc., including shifting global commerce trends, eBay's successful partnerships with retail brands and law enforcement to investigate and often prosecute bad actors and eBay's continuing commitment to enabling merchants large and small.
Present at the meeting were representatives from Home Depot, Target, Walgreens, Sam's Club, and many others, along with State Representative and Speaker Pro Tem J.D. Mesnard, who represents eBay Inc.'s facility in Chandler, AZ outside of Phoenix.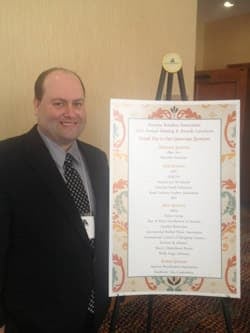 Pictured: Stoney Burke, Global Asset Protection Manager, PROACT Team
Not Pictured: David London, Senior Director, US Government Relations