February 22, 2023
The circular economy has been our focus at eBay ever since we pioneered recommerce — the sale of pre-owned items — with the purchase of a broken laser pointer in 1995.
We released our third annual Recommerce Report today, exploring what drives our community of sellers and buyers to participate in the sale of pre-loved goods. Our 2022 report also marks the first time we conducted a separate survey exclusively for buyers. 
Our latest study shows that both sellers and buyers are turning to recommerce for its financial benefits. Sellers are making and expanding their livelihoods on our marketplace by selling gently used goods, while buyers are seeking pre-owned items to find what they love at a fraction of the price. And for both sellers and buyers, recommerce is a way to reduce their environmental impact. 
"​​We know that our sellers and buyers are passionate about the sustainable and economic values of recommerce," said eBay President and CEO Jamie Iannone. "At eBay, these values are core to who we are as a company — and we work every day to build a more robust circular economy."
Key Report Findings
For our 2022 report, we surveyed 11,064 consumer-to-consumer sellers and 7,459 buyers across the U.S., U.K., Canada, Germany, France, Italy, Australia and Japan. Our report findings include the following top takeaways:   
90% of buyers said they've purchased pre-loved goods on eBay in the past year.
93% of sellers said sustainability was either "very" or "somewhat" important to them.
79% of sellers said their selling on eBay has stayed the same or increased over the prior six months due to the economy.
Generation Z, born between 1997 and 2012, was the youngest generation we surveyed. We found that Gen Z-ers are significantly more likely to turn to recommerce for extra cash, and are more attuned to the value of recommerce as it relates to environmental sustainability.
​
Beneficial Business for Both Sellers and Buyers
Recommerce helps to connect people and build communities, create economic opportunity for all — and empowers the enthusiasts among us to pursue their unique interests. It's also a way to earn extra income, according to 67% of the U.S. sellers we surveyed. 
This year, 13% of sellers surveyed said they engage in recommerce due to lost household income, and 30% said they saw an increase in their selling over the past six months.
Recommerce remains a powerhouse within eBay's massive global marketplace. Worldwide, 90% of buyers surveyed reported purchasing pre-owned goods on eBay in the past year. In some countries, that number was even higher; French respondents clocked in at 98%. This popularity of recommerce is evident from the seller survey, too; nearly 75% of the items sold by the seller survey respondents were either pre-owned or refurbished. (France was again higher than the average, at 77.5%.) 
Our survey, being global, reveals some habits of individual locales. The U.K. and France cited "cleaning out closets" as a top reason to sell pre-loved at the highest rates, at 48% and 45%, respectively. Japan, surveyed for the first time, saw the highest increase in their sales due to the economy, as 27% reported that their sales increased a lot, and 32% said their sales increased a little.
On the buyer side, tech and electronics remained the global category leader, with 34% of buyers surveyed reporting that they had purchased gadgetry. In Germany, more than half, or 56%, of buyer respondents said they purchased tech or electronics in the past year. 
Generation Z Arrives
Generation Z — the oldest of them now in their mid-20s — consistently scored higher than the average in many categories. Approximately 56% of all buyers cited financial savings as a reason for purchasing pre-owned; for Generation Z, that figure was 64%. A higher proportion of Gen Z sellers cited the economy as a reason for an uptick in their sales, and a far higher proportion named making extra cash as their major reason, compared with other generations.
​
"I try my best to do my part to combat the overflow of clothing we have in this world," said Leilani Martinez, a U.S. college student. "I definitely find value in recommerce. I appreciate the community that is created in the 'reselling' world. It's also a great way for me to save money as a college student." Recommerce has been embraced by all generations, but for Gen Z, purchasing used — whether that's vintage band T-shirts, refurbished smartphones or collectibles like trading cards — is simply part of the economic system and everyday life.
A Healthy Cycle
Sustainability goes hand in hand with recommerce. By participating in the circular economy, we can ensure that perfectly good products don't find their way into landfills when they retain plenty of value. "Recommerce creates real and lasting benefits for the environment by avoiding carbon emissions and keeping items out of landfills," eBay's Chief Sustainability Officer, Renee Morin, said. "We play a central part in the circular economy through the selling and buying of pre-loved items on our marketplace." Those factors — carbon emissions and lessening impact on landfills — showed up in our seller and buyer surveys, too.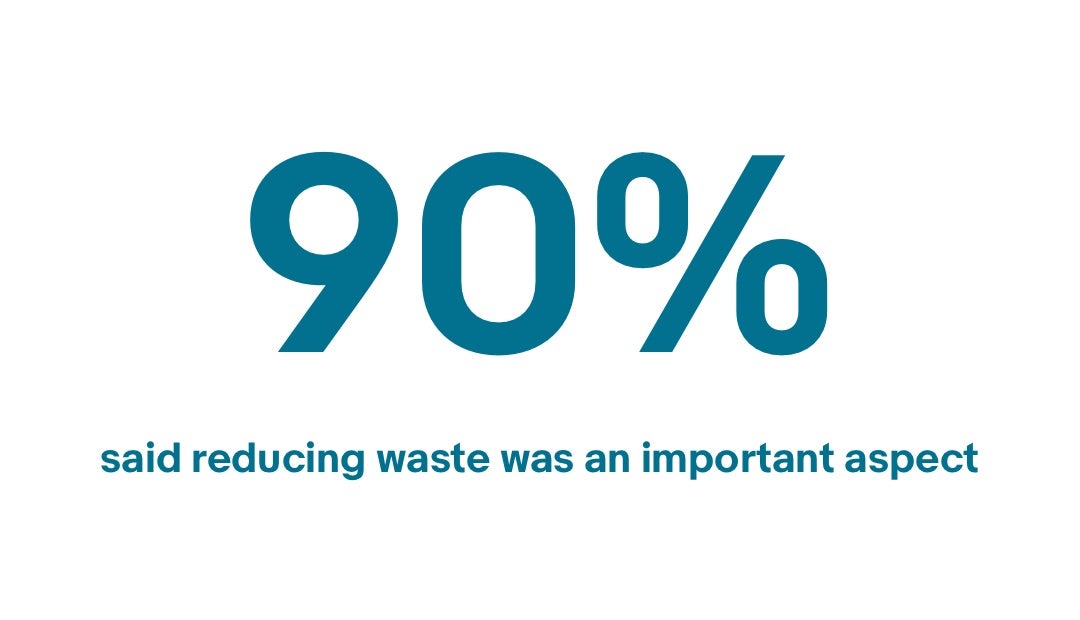 ​
About 90% of our seller respondents said reducing waste is an important aspect of sustainability in recommerce for them. In 2022, eBay recommerce resulted in 73,000 metric tons of waste avoided from landfills, 1.6 million metric tons of avoided carbon and $4.6 billion in positive economic impact created by eBay's sellers and buyers. 
Generational differences showed up here as well in our study's findings, with younger generations, including Gen Z and Millennials, valuing the sustainability benefits of recommerce at a higher rate than older generations. "Refurbished products on their own are very environmentally friendly, because they use recycled technology and generate significantly less pollution than manufacturing new products," said Chital Gandri, a Canadian seller whose business focuses on computers and computer accessories.
At eBay, sustainability intersects with economic opportunity for all, and recommerce makes that possible. Read eBay's full Recommerce Report at ebayinc.com/impact/sustainable-commerce/recommerce-report.
Methodology
We surveyed 11,064 of eBay's consumer-to-consumer (C2C) sellers in the U.S., U.K., Canada, Germany, France, Italy, Australia and Japan between Oct. 18 and Nov. 1, 2022. 
In the U.S. and Canada, sellers included all sellers with less than $10,000 gross merchandise value (GMV) or fewer than 25 transactions in a year. In the U.K., Germany and France this included any seller who self-identifies as C2C. 
This year, for the first time, we surveyed 7,459 buyers in the U.S., U.K., Canada, Germany, France, Italy, Australia and Japan. This sample was analyzed separately in order to maintain comparability of the seller sample year over year. This included buyers who were active in the 12 months prior to taking the survey.