November 15, 2021
Small businesses are the backbone of the Indian economy and this vibrant sector continues to be a driver of the country's entrepreneurial endeavors by emboldening the spirit of business innovation.  We at eBay remain deeply committed to supporting our passionate seller community during these difficult times and are unwavering in our mission to empower people and creating economic opportunities for all. While the COVID-19 pandemic continues to create unprecedented challenges for Indian small businesses, they are embracing the avenues provided by digital technology to remain connected with their customers.  Today, we published a new report exploring how eBay provides a level playing field for small businesses across India to reach shoppers in hundreds of markets, contributing to national and state efforts to foster balanced and inclusive growth through exports.
Our research showcases that all eBay-enabled small businesses in India are exporters, compared to less than ten percent of traditional businesses, and they serve customers in an average of 42 different foreign markets.  An astounding 92 percent of eBay-enabled small businesses export to 10 or more foreign markets, 93 percent export to four or more continents and as a collective, they made sales in 210 foreign markets.  This impressive exporting activity is also occurring in cities of all sizes, with sellers from the smaller metro areas even outperforming the largest cities in some metrics.  Additionally, eBay-enabled small businesses are achieving export success in a growing number of states and union territories in specified product categories that are being targeted by their policymakers for customers in the key United States and United Kingdom markets.
The report also features many of the people behind these small businesses, such as Jyoti Wadhwa, a Delhi housewife, mother, and owner of Sanskriti Vintage, which specializes in ethnic Indian fabrics.  A first time entrepreneur, Jyoti started Sanskriti Vintage on eBay after supporting her husband's decision to quit his job and taking the reins to financially support her family.  Initially, trying to figure out how to list and describe products seemed challenging, but with the support of teams at eBay, she quickly got the hang of conducting global ecommerce retail.  Jyoti soon found herself selling 500-600 sarees in the range of $15-$40 per piece each day and went from having no employees to a team of 30.  She now sells to customers across the globe and is a recipient of the Niryat Shree award from the President of India. From a financial supporter to becoming a global exporter, Jyoti today is the inspiration for many women.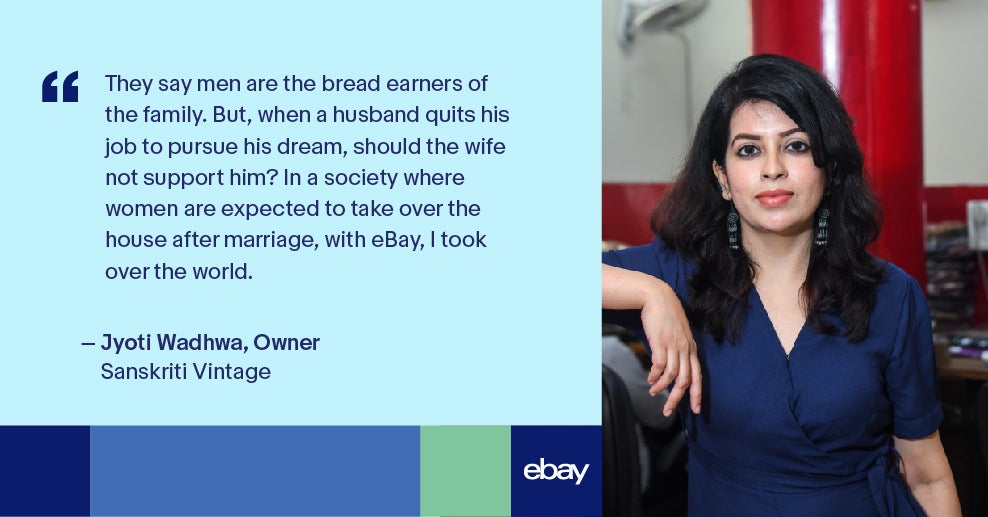 Finally the report highlights how eBay is fostering a healthy entrepreneurial environment throughout India by indiscriminately facilitating market entry and participation for new enterprises.  This is  a key indicator of business and economic dynamism and an important element of economic growth.  As recently as 2019, nearly a third of eBay-enabled small businesses in India were "newcomers" and as we found with the exporting activity, the figures were similar across cities of all sizes.   
Moving forward, the importance of small business and digital technologies to the economic and export success of India has never been clearer. eBay is committed to its continuous contribution to the evolution of ecommerce exporting in India and empowering all businesses, but especially entrepreneurs, micro and small enterprises, to engage in ecommerce and Internet-enabled trade on a level playing field that is truly aligned with their interests and aspirations.
Read the full report here.