March 28, 2019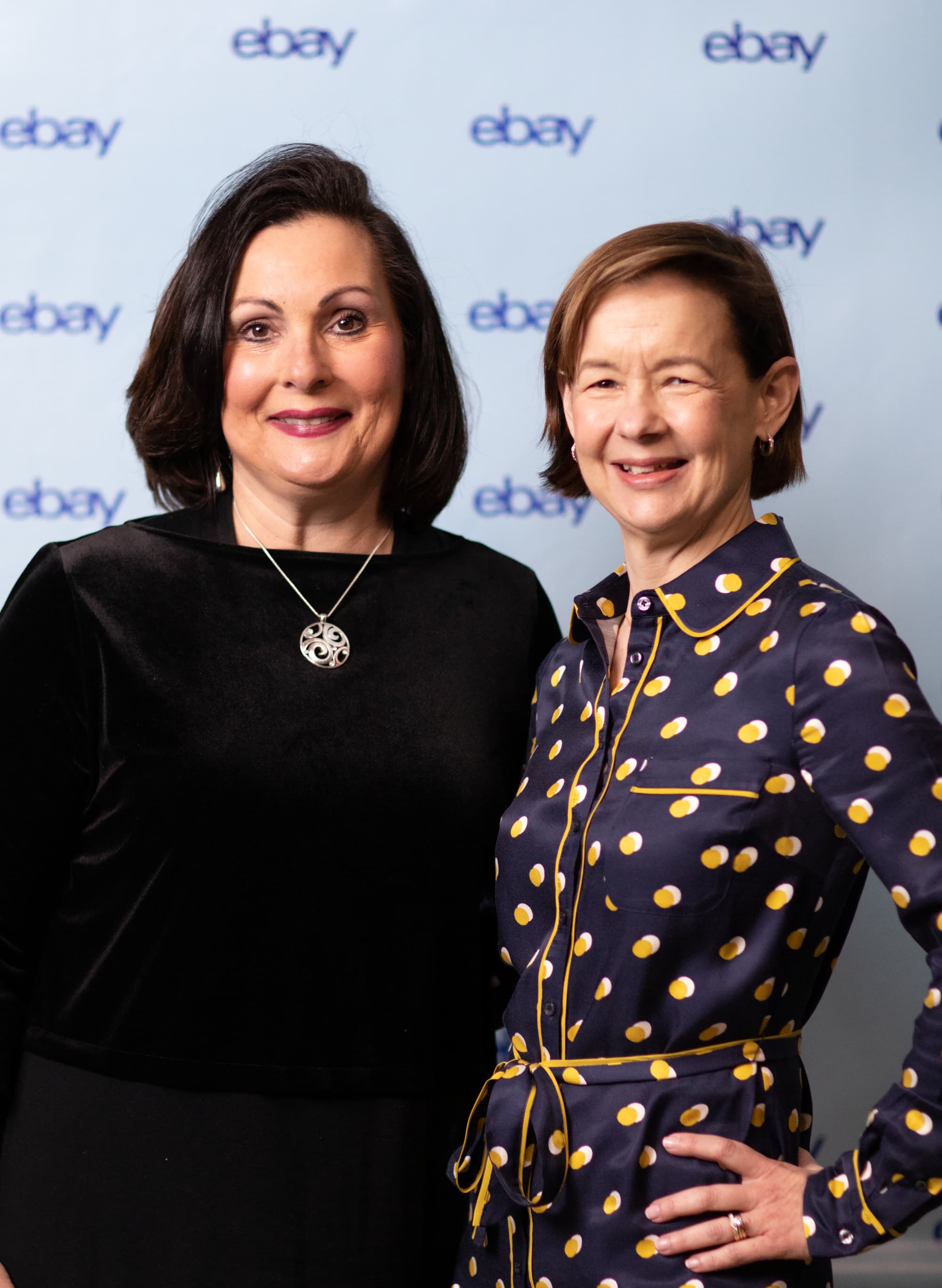 Greensboro Mayor Nancy Vaughn (left) and Sharon McBride, eBay Senior Director of Government Relations
eBay has launched Retail Revival in Greensboro, NC, its fifth partner city. With its rich history as a textiles manufacturing hub and a pioneer in the Civil Rights movement, Greensboro offered the perfect balance of grit and vision to make this program a success. Retail Revival will help fuel the growth of Greensboro small businesses by equipping them with the tools they need to harness the power of eBay's platform and global marketplace. Each partner city works with eBay for a 12-month period, during which participating businesses receive training, support and resources to start and scale their businesses on eBay. They are also promoted through ongoing storytelling, media outreach and a dedicated landing page – ebay.com/RetailRevival – where shoppers can browse and buy their unique products.
The launch included a Seller Kick-Off event hosted by eBay for the more than 70 Greensboro businesses selected for the program. Greensboro Mayor Nancy Vaughan delivered opening remarks about the importance of this partnership and the great opportunities it will provide for small businesses across the city. The participating businesses were then taken through a full day of programming to learn best practices and practical tips for making the most of eBay's platform. Included among the training topics discussed will be listing optimization, pricing strategies, and inventory management.
The Kick-off also included a seller panel with three top eBay sellers: Laurie Wong, of Reflections of Trinity; Scott RowBotham, a North Carolina resident and owner of HPTAutoSport; and, Michael Wilson, owner of Wilson Brothers Jewelry. The sellers discussed their perspectives on ecommerce and how eBay has transformed their businesses. All three sellers are members of the eBay Government Relations' Small Business Ambassador Network. This program provides sellers the opportunity to help shape eBay's ongoing government relations efforts and meet with elected officials to discuss issues important to internet-enabled small businesses.
Retail Revival was first introduced in the U.S. in early 2018 with the goal of helping traditional "Main Street" businesses connect online with eBay's 179 million active buyers. It began in Akron, Ohio then expanded to nearby Lansing, Michigan before going global with launches in Wolverhampton, UK and, most recently, Halifax, Canada. To date, the program has produced meaningful results for participating businesses:
Akron and Lansing sellers have sold over 30k items to more than 17k customers in all 50 states and 105 countries.
Wolverhampton sellers hit the $2M mark in collective revenue within the first five months.
The Retail Revival program helps advance existing economic development efforts by harnessing the power of technology and eBay's global marketplace to support local business communities. Learn more about participating businesses and shop their unique inventory at ebay.com/RetailRevival.