November 20, 2012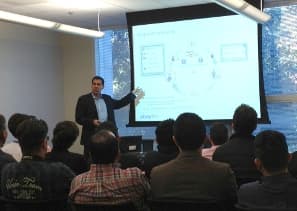 Colombia is the United States' 4th export market in Latin America behind Mexico, Brazil and Chile. The United States is also Colombia's largest trading partner, representing about 42% of Colombia's exports, according the Embassy of the United States in Bogota, Colombia.
Regions throughout Latin America, like Colombia, have been priority emerging markets for many Silicon Valley companies. This week, eBay Inc. opened dialogue with a key Colombian trade and exports government agency, Proexport and a delegation of over thirty software development leaders. The Colombian delegation visited eBay Inc.'s North Campus in San Jose to learn more about commerce and payments strategies that will help Colombian businesses expand their services, in country and regionally.
eBay Inc. Government Relations' Executive Director of Emerging Markets and New Ventures Michelle Peacock and PayPal's Latin American Market Development Director Fernando Moreno highlighted eBay Inc.'s commitment to facilitate innovation and global trade through its payments innovator, PayPal and its open source platforms, X.commerce and Magento. As leading open source commerce platforms, X.commerce and Magento serves tens of thousands of businesses worldwide and is supported by a global community of solution partners and third-party developers.
eBay Inc. is proud to establish this dialogue with Colombian public and private sector leaders and open another global market for our customers around the world.
Pictured: Fernando Moreno, Director, Emerging Markets, PayPal