November 24, 2020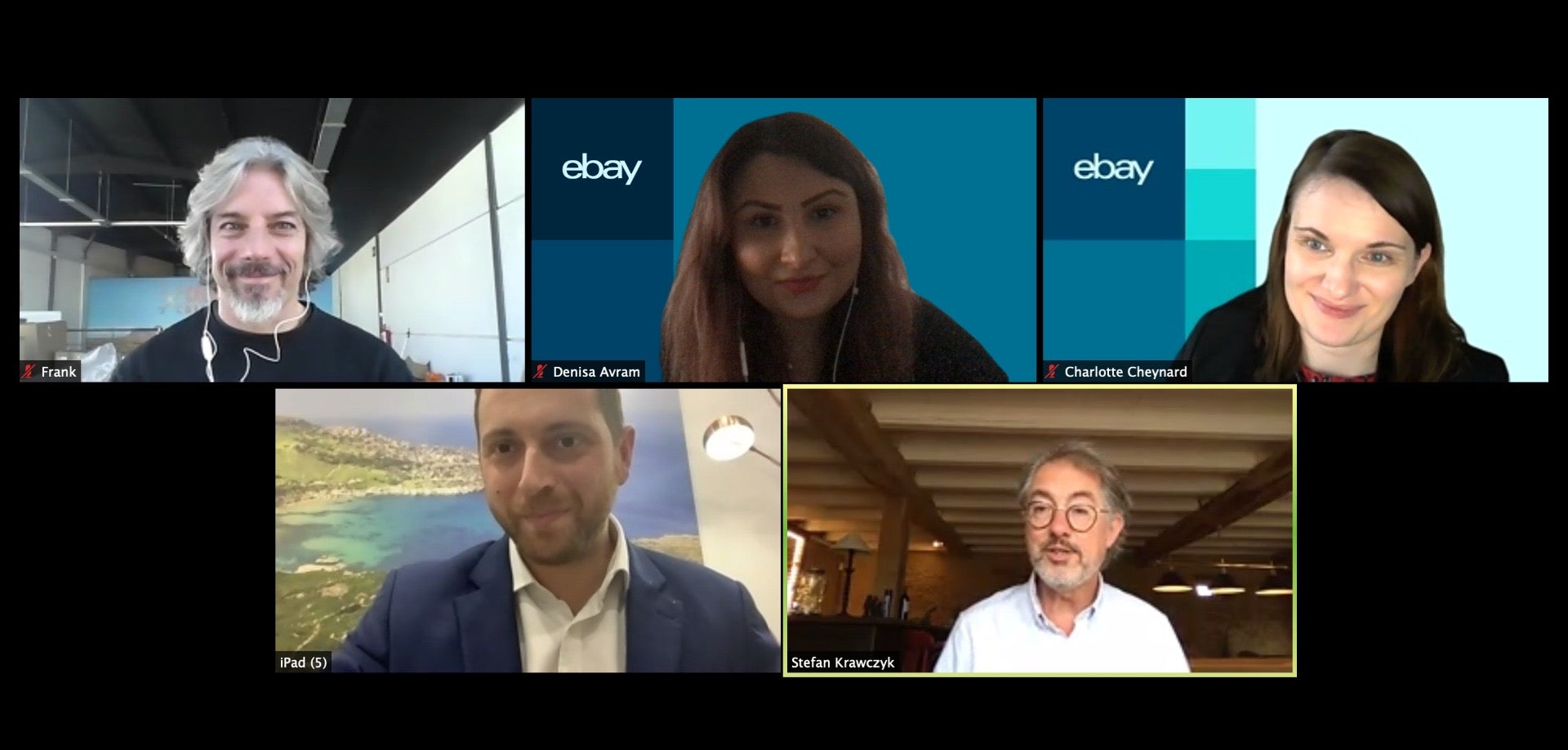 This November marked eBay's EU Seller Advocacy Month in which the eBay Government Relations Team organized numerous activities in support of policies to ensure an open, equitable and competitive European ecommerce market.  The Team facilitated several virtual meetings between 12 owners of eBay Small and Medium Enterprises (SMEs) across Europe and ten Members of the European Parliament and European Commission.  The sellers discussed important small business issues such as postal services, the circular economy, the Digital Services Act (DSA) and the Digital Single Market.  The meetings fueled productive conversations on the biggest challenges faced by SMEs across Europe such as shipping, taxation and competition with large retailers. eBay would like to thank these sellers for taking time away from their businesses to advocate on behalf of all eBay-enabled small businesses across the European Union.
The sellers also used these meetings to deliver eBay's new EU Small Online Business Trade Report, which provides insights into the unprecedented trade success of eBay enabled small businesses across the EU. Using trade data, the report describes how eBay is empowering small businesses and entrepreneurs in every country of the EU to extend their geographic reach and actively engage with global customers.  Key findings include that nearly every eBay-enabled small business in the EU is an exporter and that this is powering new enterprise development, resulting in robust rates of younger firms on eBay, especially in Member States with the highest startup rates. In addition, the report includes policy recommendations aimed at improving conditions for independent small businesses throughout the EU that are using technology to reach beyond their local market. Among these proposals are initiatives to lower market access barriers and costs and enhance legal and institutional stability and trust in key areas such as taxation, parcel delivery, and extended producer responsibility. 
In addition to the virtual meetings, Rob Hattrell, Senior VP and Head of Europe at eBay as well as Stefan Krawczyk, Associate General Counsel and Head of EMEA Government Relations at eBay each published an article on Politico.eu discussing the need to make digital work for SMEs in Europe.  Rob's piece focused on the importance of placing SMEs at the center of Europe's 'digital decade'.  He emphasized how eBay pioneered a bold model of shopping and selling that was, and still is, about empowering people and creating prosperity for all.  He also highlighted how we extend a hand to untapped communities with programs that encourage small business creation and give back through our nonprofit charitable foundation.  Rob noted that in the wake of COVID-19, eBay supported multiple organizations around the world and in order to help 'brick and mortar' retail we have launched accelerator programs geared specifically toward SMEs to help them transition to selling online. 
Stefan's article touched on three policy changes European SMEs need to go global, green and digital: Guaranteeing  SME rights and independence in using online marketplaces, ensuring fast, affordable, reliable and traceable delivery, and embracing new circular ways to trade online.  He offered that small businesses require legal certainty and a policy framework in which they can place confidence. Only this would prevent them from getting bogged down by legal challenges that their larger competitors are equipped to tackle.  At the same time, European rules must positively empower those SMEs to embrace both the digital and the green transition.  Stefan stressed that the objective is to pass on to future generations a diverse, growing and, most importantly, sustainable European economy.
Finally, eBay partnered with Politico EU to host a webinar discussing the challenges and opportunities faced by SMEs as they adapt their business models to an economy becoming more digitized. Rob Hattrell, Senior VP and Head of Europe at eBay provided introductory remarks and Andreas Müller, eBay top seller and owner of Delatecc, offered the perspective of European Small Businesses.  Additional panelists included Alex Agius Saliba, MEP (S&D, Malta), Rapporteur of the Digital Services Act Initiative; Ricardo Castanheira, Digital and Technology Counsellor, Portuguese Permanent Representation to the European Union; and Victoria de Posson, Senior Manager, Public Policy, Computer & Communications Industry Association (CCIA).
Rob touched on how eBay provides important opportunities for SMEs across the EU to grow their businesses online and how the platform empowers them to reach 183 million shoppers around the world. He stressed that simplicity and uniformity are needed in e-commerce legislation in order to benefit both SMEs and consumers.  The panel discussion, moderated by Laura Kayali, technology reporter for POLITICO, addressed the rapid digitization of the Europe economy and the accelerated need for small business protections in the online marketplace. The conversation addressed Europe's need to update decades old e-commerce legislation and the proposed Digital Services Acts, the goal of which is to strengthen the EU single market while also protecting SMEs and consumers.  The panelists offered their views on the three biggest challenges for SMEs across Europe, which included regulatory fragmentation, unfair trading practices regarding large retailers, and competition from companies outside of the EU.  They also stressed the need for reinforcing consumer and SME rights as well as ensuring free and fair markets for all.