November 3, 2022
This article originally appeared on eBayInc.com.
eBay's purpose is to connect people and build communities to create economic opportunity for all. And it shapes everything we do. We partner with our sellers and we are there with them every step of the way — helping and encouraging them to turn their passion into thriving businesses.
Our inaugural Small Business Report examines how our sellers start their businesses and the important ways in which eBay helps support their success. This survey of 2,607 sellers in the U.S., U.K., Canada and Australia demonstrate the key drivers of eBay's small businesses and share how our marketplace has fueled their growth — while enabling community and global reach.
"Our sellers dream big and work hard to realize their personal goals. What they do is truly inspirational," said Jamie Iannone, President and CEO. "We partner with them along their journey, helping to propel their success and creating economic opportunity for all."
Key Report Findings
Our 2022 report findings show eBay is a crucial economic driver for many of our sellers:  
71% of sellers say that they rely heavily on eBay for their business 
Almost a third of those surveyed report that their business could not exist without eBay
75% of sellers strongly describe eBay as being accessible to all
57% strongly feel that eBay is unique among online marketplaces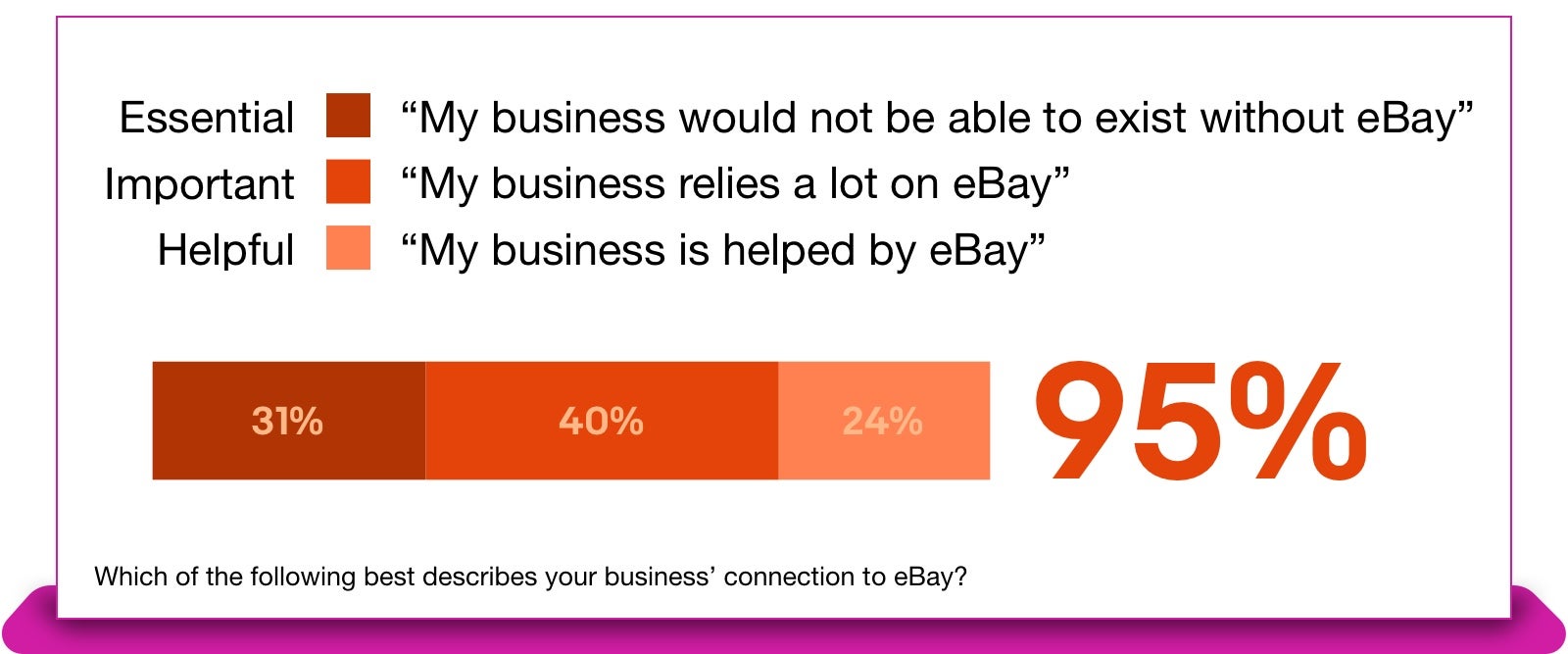 Among them is eBay seller Ajay Mirchandani, whose eBay store Bleacher Bum Collectibles is based in Canada.  "eBay has opened our eyes as to how a business can become successful online. None of this would exist if it wasn't for eBay."  
Like Ajay, 72% of our sellers strongly believe that eBay wins when sellers win.
Another half of our sellers say eBay played a significant role in helping them start and continue to grow their business. Our report also shows that small business owners have joined the eBay marketplace for a number of reasons: to support their families, create a new income stream and  turn a passion into a profession.
Economic Empowerment 
Sellers come to eBay to find financial independence and success. That's because our marketplace gives sellers something priceless — the opportunity to determine their own path forward. In fact, 91% of those surveyed say that "being their own boss" is an important driver of their business. 
That is especially true for eBay seller Lucy Hannan, founder of Hannan's Hamper's, a personalized chocolate and candy business in England. 
"What I love the most about being my own boss for my small business is the fact that it's on my own time," said Lucy. "And I'm constantly setting my own goals, in my own timeline. And it works around me perfectly." 
Creating Economic Opportunity for All
With the initial sale of a broken laser pointer over 27 years ago, eBay fundamentally changed how the world shops. And we created a model of universal, inclusive entrepreneurship — where anyone, anywhere in the world can sell and succeed online.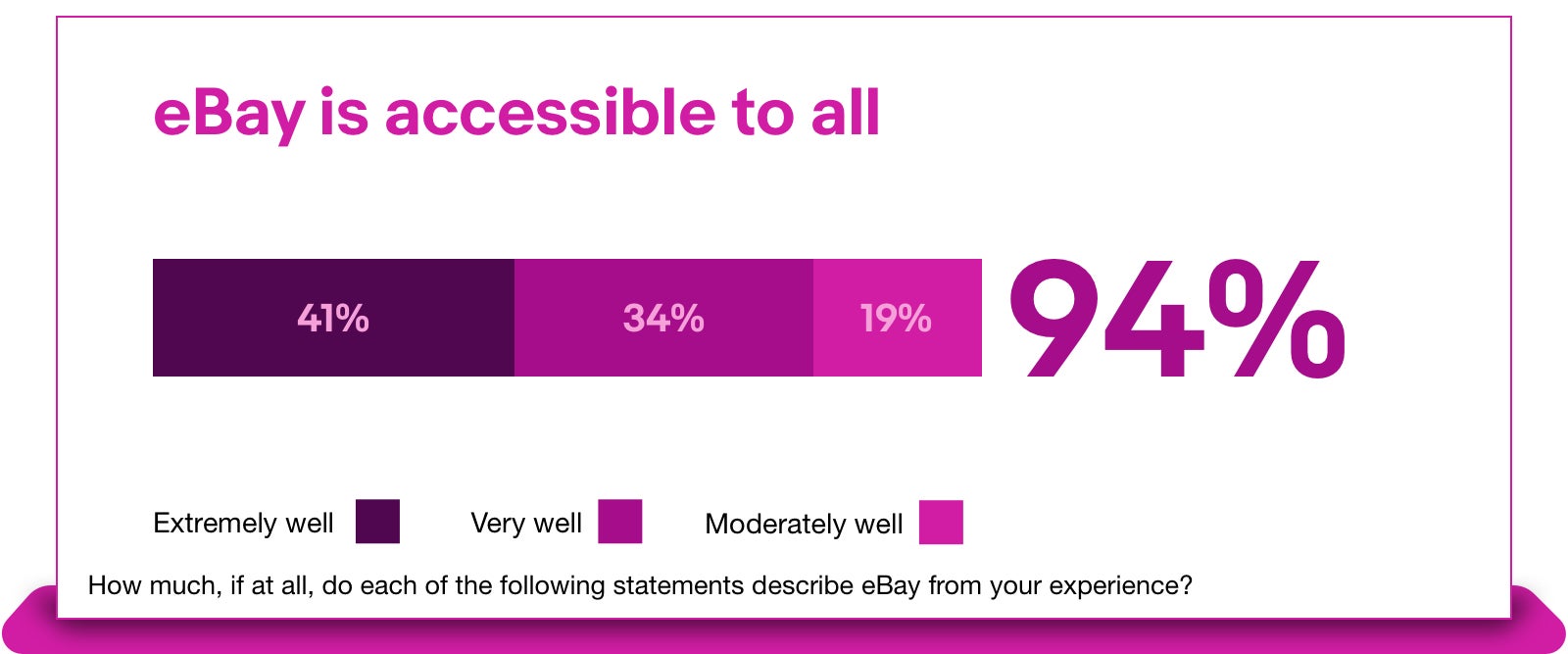 Our data also shows that 94% of sellers describe eBay as being accessible to all at least moderately well, and also say that the diversity of customers is very important to our sellers. Women surveyed were 13 percentage points more likely to say that eBay is essential to their business, and also 7 percentage points more likely than men to say that eBay played a big role in starting their business.** And 15% of all sellers surveyed self-identified as having a disability.
Success for us happens together. We don't compete with our sellers, we are here to help them grow and thrive on our marketplace. In 2020, we launched our Up & Running Grants to assist small businesses as they start and grow online. Since its launch, we've committed $1.5 million in funding to 150 small business sellers across the U.S. who showcase the best of selling on eBay. In addition, eBay Academy, our online learning platform, teaches people the ins and outs of selling, giving sellers the tools they need to grow their business through courses designed by eBay experts. 
Achieving Success and Community on a Global Scale 
Our marketplace enables sellers to reach customers across borders and around the world. United by shared values and interests, we encourage and empower our sellers to create communities throughout our marketplace. 
"Small businesses are the backbone of eBay, and our platform exists to power their success at every stage of their journeys. eBay sellers bring incredibly diverse inventory to our marketplace — united by a shared passion and expertise for the communities they serve," said Jordan Sweetnam, Senior Vice President, Global Markets. 
Our community of sellers realize the value of those connections, with the vast majority seeing eBay as a place to create a unique community of buyers and a place to identify new customers.
Respondents to our 2022 small business survey have their businesses fairly evenly spread  across rural areas, small towns, suburbs and cities. 
Wherever their location, the majority of sellers report that eBay has helped them sell to new markets, with 58% saying that eBay's community of sellers is either very important or essential  to their business.
And in the past 12 months, over two-thirds of those surveyed report selling to more than three countries besides their own — with 34% selling to more than six countries. 
Turning Passions into Professions
Some 45% of sellers surveyed for our small business report identify as "accidental entrepreneurs."* These entrepreneurs are doing what they love and building businesses along the way. One example is Australian seller Nate Tran, who collects trading cards that he now also sells through his eBay store, iCollected. Like many accidental entrepreneurs, he didn't set out to start a business.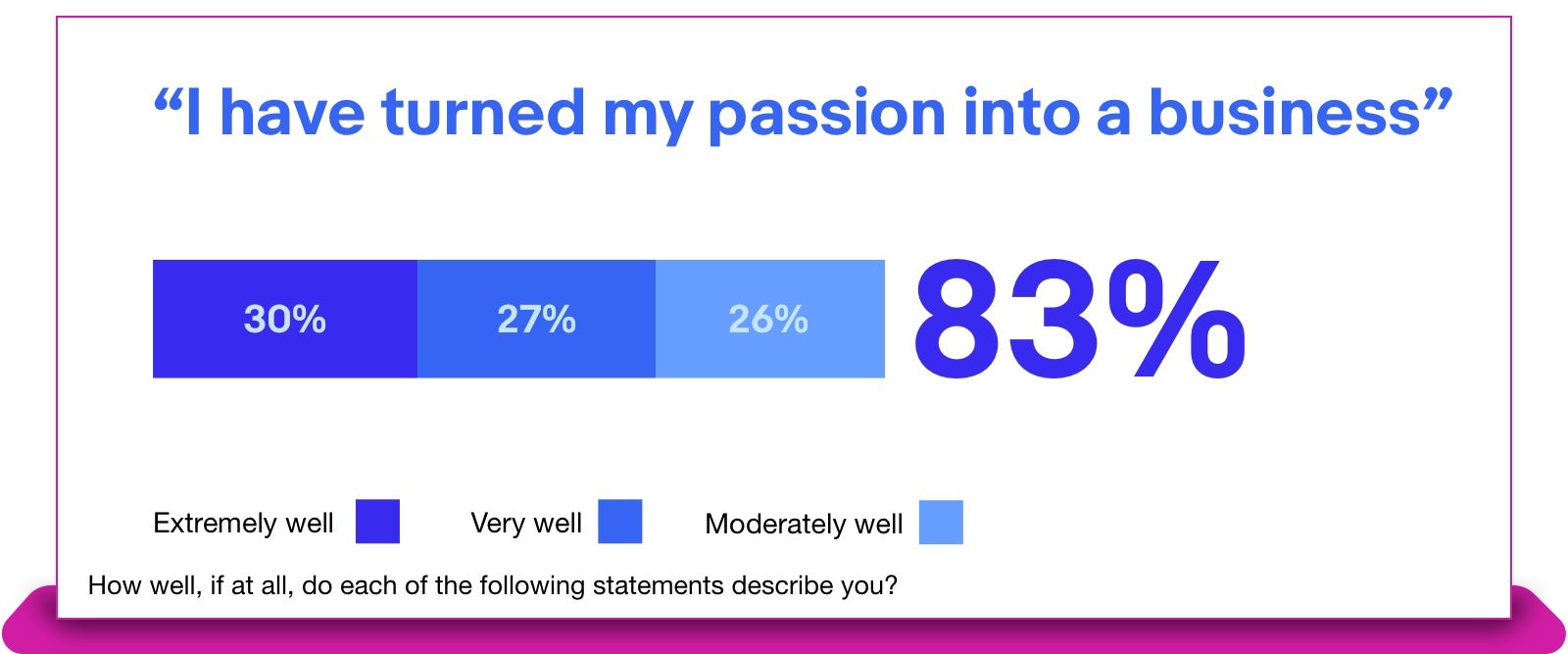 We are also turning passions into a business. Our unique inventory brings people together. We connect millions of sellers and buyers of all interests through sought-after items that meet needs, add to collections or simply bring joy. In fact, 85% of those surveyed say the rich diversity of the products on eBay is either essential or very important to them. This year eBay acquired TCGplayer, building on eBay's offerings in the trading cards category and bringing even more selection to enthusiasts.  
Recommerce, or the Selling of Pre-loved Goods, Provides a Clear Path Forward
eBay is a pioneer of recommerce. Over three quarters of sellers surveyed are using eBay to sell pre-owned goods – sellers like Angie Cardona-Nelson, who finds new homes for refurbished electronics in the U.S. through her store, Angie's GreenGo Surplus. 
Sellers realize there is value in pre-owned goods, and they come to eBay to find customers for those items. Pre-loved items become new treasures for buyers. In that way, recommerce is central to who we are and enables a more sustainable future for us all.
Read our 2021 Recommerce Report. 
Methodology:
Between September 1 and September 12, 2022, we partnered with GlobeScan, a global insights and advisory consultancy, to conduct an online survey of 2,607 eBay sellers in the U.S., U.K., Canada and Australia. The goal was to assess small business seller sentiment and opinions towards eBay as they started and grew their business.
*Accidental entrepreneurs are defined as eBay sellers who self-identify as people who started their business for a specific reason(s) and who "never thought I would be running their own business", or who "have turned my passion into a business", and who state that "being their own boss is important to me." Reasons for starting their business are "wanting to turn passion/hobby into a business", "taking the opportunity for a career change", "having a specific interest in a type of product", "wanting to make use of a skill set", or "seeing a specific business opportunity."
**32% of total survey respondents were women.