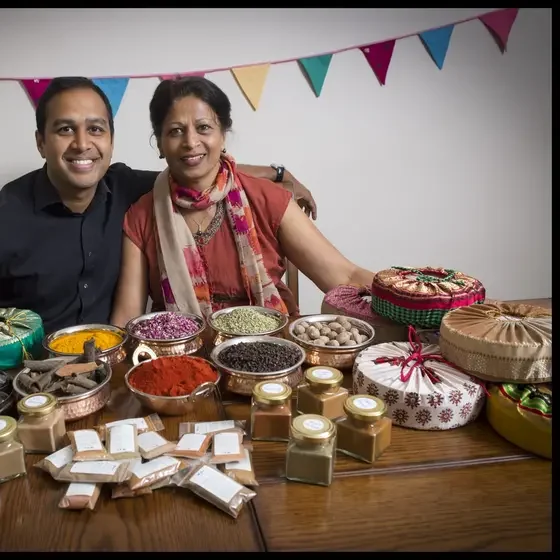 About
Spice Kitchen

…

Spice Kitchen is an online artisan food business founded by Sanjay Aggarwal and run by his mother and father in Birmingham, England. Born from Sanjay and his mother's passion for creating fresh and delicious spice blends, the company created its eBay store in 2013 and has grown into a full-time food business servicing over 2,000 customers. With his father growing up in Kenya and his mother in India, Sanjay had a unique opportunity to integrate his parents' culinary passion and knowledge into a product that customers love. Originally starting with just

Indian spices and blends, the company has now expanded to cover other blends of spices including Mexican, Moroccan, African, Middle Eastern, Jamaican and Chinese. The company sources fresh and unique ingredients from around the world and the spices are blended by hand

by Sanjay's mother using recipes and techniques that have been passed down through their

family for generations. As the company continues to grow, the Aggarwal family has expanded internationally and also into new exciting areas such as corporate gifting, wedding favors,running spice master classes and even creating new spiced chocolates with artisan choolatiers! With this diversification of services, Spice Kitchen has increased its customer base and ensured a future of continued growth and success. Sanjay and his parents als support Frank Water, aBristol based charity which funds clean water projects in India.
The opportunities that our business has had over the last few years are a direct result of selling on eBay. eBay gave us a simple, low cost way of building our business and provided an international platform for us to get the Spice Kitchen name out there.