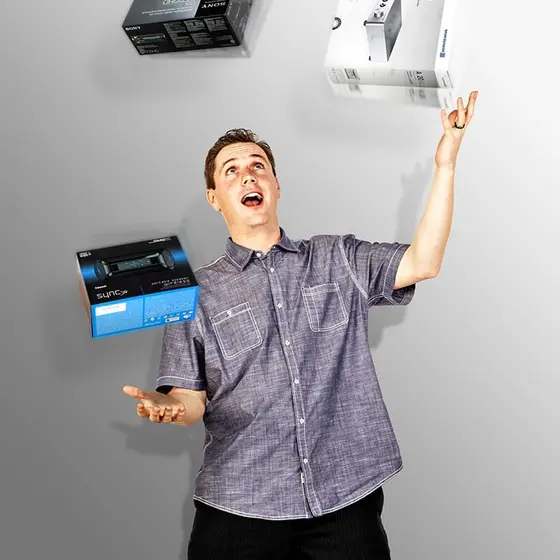 Valencia, California, USA
Sonic Electronix operates two warehouse facilities for a combined total of 120,000 sq. ft. of space. One is located in CA and the other is in KY.
About
Sonic Electronix

…

Founded in 2000, Sonic Electronix is an audio and electronics specialist dedicated to delivering sound savings and expert advice. With over 2,000 shipments per day, including exports to countries like Canada and Australia, Sonic Electronix understands everything it sells. Nate has lived in California his entire life. As a member of his local community, he not only provides employment for 120 individuals, he also participates in fundraising for local charities, church groups, and The Boys and Girls Clubs of America. Over the years the company has achieved numerous honors and has been recognized for its dedication and passion for business. In 2011 and 2013, Sonic Electronix was recognized as a BizRate Circle of Excellence winner. This is in addition to the A+ BBB rating, Excellent STELLA Service Rating and continued ascension up the Internet Retailer Top 500 list. Sonic Electronix has experienced impressive growth over the years despite global economic challenges. In 2011, the company launched three brand names to provide additional value to customers and increase their global visibility. The brands now bring in millions of dollars in revenue annually. Additionally, partnerships have been created with factories in China, Korea and Indonesia, as well as with three independent engineering firms in the United States. Plans to begin assembly and manufacturing in the United States are slated for 2016. The company is privately held, has been profitable since day one and attributes much its success to the dedication to delivering a unique consumer experience.
I'm able to directly contribute to the improvement of not only my family's life, but the lives of my employees, as well as the customers and vendors we do business with. There is a sense of empowerment and accomplishment when we reach certain milestones, and being able to really see and appreciate all of it is quite special.