At a Glance
To ensure the health and safety of European consumers, while guaranteeing the functioning of the Internal Market, the EU is updating its rulebook on product safety and defective products. The main changes are intended to reflect the characteristics of new business models, specifically e-commerce. 
New legislation such as the General Product Safety Regulation (GPSR) creates obligations for all actors of the retail chain, from manufacturers to distributors, including online marketplaces, to ensure that they take actions against dangerous products according to their role and responsibilities towards consumers.
For eBay, product safety is a topmost, global priority. We welcome the GPSR and the fact that its provisions are aligned with other recently approved EU legislation applicable to e-commerce, such as the Digital Services Act (DSA). Moreover, eBay appreciates the fact that EU product safety regulation recognizes the specificities of second-hand products, and how its supply chain differs from that of new goods.
Recommendations
Only place products that are safe for consumers in the EU market.
Take actions against dangerous products that are already available to consumers/
Improve cooperation with other economic operators and with market surveillance authorities
Issue in detail
Applicable from December 2024, the General Product Safety Regulation (GPSR) creates a single set of product safety and market surveillance rules for all products placed in the EU market. It applies to both new and second-hand products and contains new rules for all players along the value chain: manufacturers, importers, distributors and online marketplaces. Consumer-to-consumer transactions are excluded from the scope of this new Regulation, as well as certain antique items.
Under the GPSR, online sellers and marketplaces should:
Recommendations in detail:
1. Only place products that are safe for consumers in the EU Market
Manufacturers, importers and distributors must include new mandatory information in the documentation and packaging of all types of products. This will allow authorities to improve the traceability of goods in the market and take actions more efficiently when unsafe items are identified.
As dangerous products could be found after being placed in the market, the GPSR requires all products offered to consumers in the EU (including imports) to be connected to a responsible person in the European Union, who is to be contacted by consumers or authorities in case of any safety issue.
Therefore, online sellers are responsible for checking that the documentation and packaging provided by the product's manufacturer or any other player in the supply chain include the required information in an easy-to-understand format, as well as the contact details of the EU-based responsible person.
To help ensure that only safe products reach the market, online marketplaces will have to remove listings of products reported by authorities within two working days and, upon order to do so, remove any identical content that they could manage to identify using reliable automated tools. Thanks to eBay's Regulatory Portal launched in 2021, we are able to react on authority reports of listings offering unsafe products within a few hours.
2. Take actions against dangerous products that are already available to consumers
Whenever an online seller, marketplace or any other player in the supply chain (also called "economic operator") identifies a safety issue with a product that is already accessible to consumers, they must act to mitigate any possible risk and notify EU authorities through the interoperable interface dedicated to product safety called the "Safety Business Gateway".
Furthermore, the GPSR requires online sellers to have internal processes in place to ensure compliance with products' safety requirements, as well as to provide additional information as requested by authorities, such as risk assessments, previous accidents known, and corrective measures.
In case of a product recall, sellers and online marketplaces must cooperate with authorities to identify the supply of the dangerous product, inform the involved economic operators, publish the recall notification or safety warning, and make best efforts to contact as many consumers as possible to communicate on the safety issue. Additionally, sellers must offer to consumers an option to refund, repair, or replace the product for another of the same value.
3. Improve cooperation with other economic operators and with market surveilance authorities
New obligations will facilitate the traceability of products and the identification of the responsible EU economic operator for goods that could be dangerous to consumers. Nonetheless, the GPSR puts in place provisions to strengthen the cooperation of online marketplaces with both authorities and consumers to keep dangerous products off the market. In that sense, online marketplaces will have to:
Use the EU Safety Gate Portal to get regular information on dangerous products, which will also help to improve their proactive voluntary measures aimed at detecting, identifying, removing, or disabling access to more dangerous product listings.

Process notices from individuals related to product safety issues within three working days.

Suspend, for a reasonable period of time and after having issued a prior warning, sellers that frequently offer products that do not comply with the information requirements set by the GPSR.

Inform the relevant economic operator about the removal of the listing due to safety issues.

Use the EU Safety Business Gateway to inform other value chain actors about dangerous products the marketplace has knowledge.

Allow access to their interface for the online tools, such as crawling tools, operated by market surveillance authorities to identify dangerous products.
What is Next?
Going forward, the EU is reforming the Product Liability Directive from 1985, which sets general liability rules for manufacturers, importers, distributors and fulfillment services providers in the case of damages incurred from defective goods already in the hands of the consumer. The new PLD proposal could enable compensation claims for any type of harm resulting from these defective products, including data loss, physical or psychological harm.
The proposal would also have an impact on the circular economy, aiming to address new business models such as refurbishment and the Internet of Things. For example, refurbishers would be protected from liability where they can demonstrate the damage was caused by a part of the product that they did not touch nor modify.
It is crucial that the EU ensures consistency between the Digital Services Act, the GPSR and the PLD when it comes to liability for defective products sold via online marketplaces. Therefore, eBay welcomes the Commission's approach on this reform, as well as the exemption for sellers of the circular economy who are able to demonstrate that damage lies with a part or component of the product untouched by them.
Once all new provisions under the GPSR and the new PLD become applicable, products aimed at the EU single Market will have comply with the following product safety obligations through the different stages of the supply chain: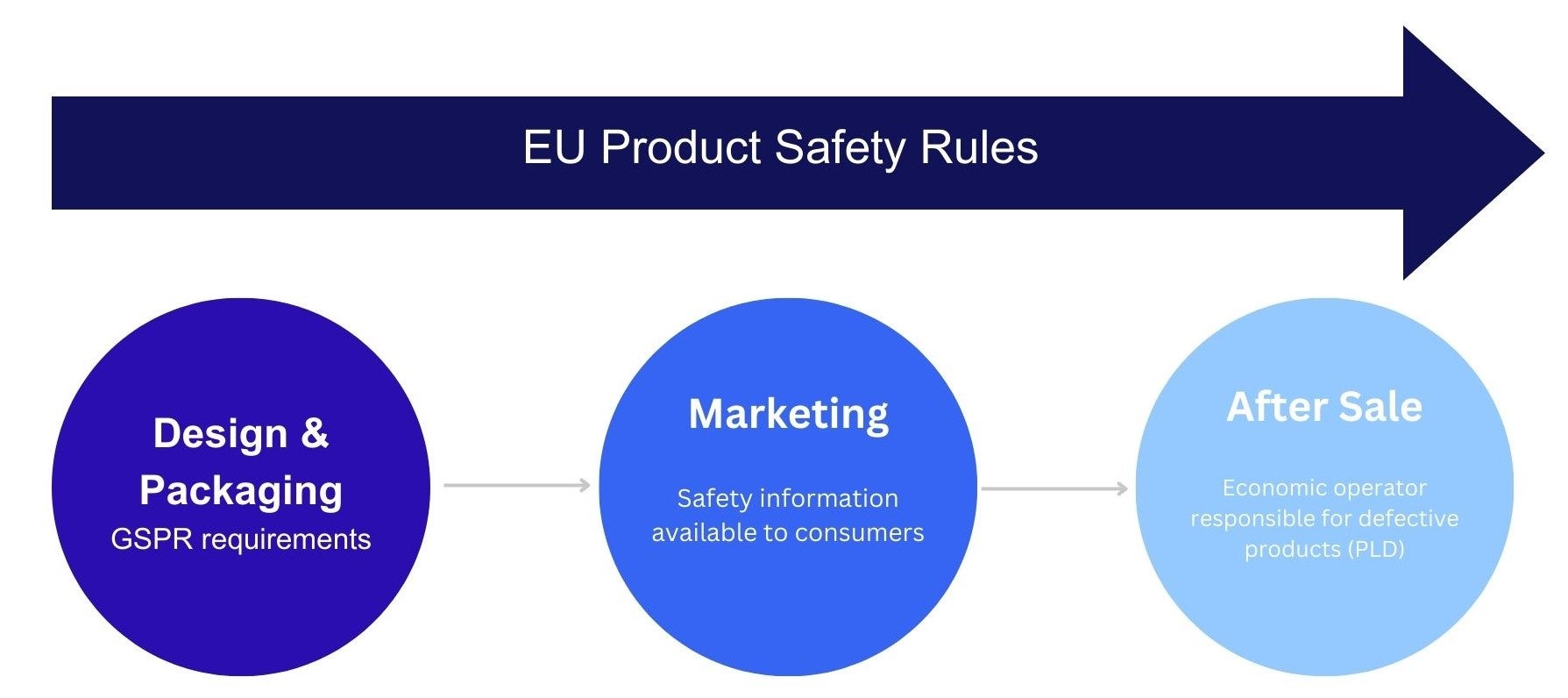 ​
Learn more: